Cloud Management Media Converter
◆ Product Advantages:
Cloud management equipment (fiber media converters, fiber switches, etc.) and cloud management platforms are the first in China, with their own core technologies and full intellectual property rights. Remote centralized monitoring and background rendering of front-end devices can be easily implemented through this system. The operation and maintenance management platform can present real-time information of the device: power supply status, fiber port status, Ethernet electrical port status, optical module information (wavelength, distance, rate, temperature, optical power) and other parameters; and real-time alarm and record, Simple operation, real-time alarm, accurate positioning, efficient maintenance, intelligent management, and minimize procurement, inventory, construction, network construction, and operation and maintenance costs, providing customers with cost-effective line management solutions.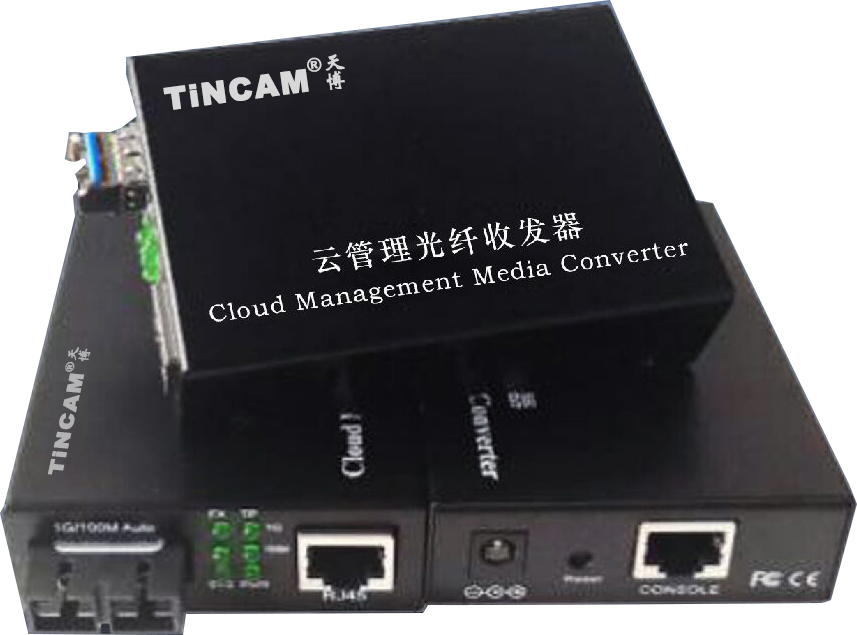 ◆ Product Features:
There is no need to modify the central office (computer room) equipment, and the front end uses the cloud management optical transceiver or switch device to realize unified management of the cloud platform, and can provide a data interface for integration by a third-party platform;

Unified management of the cloud platform, supporting multi-service form devices, using a graphical interface, can manage up to thousands of nodes, so that the interface is simple and clear management;

Use the central office cloud management server device to complete the operation and maintenance and cloud management of 200 points in the smart community;

Realize the real-time monitoring of the loss of fiber, off the network, power failure and instant alarm, convenient operation and maintenance, accurate positioning equipment failure, fast processing;

Support local console management and remote telnet, web, tftp and other management and upgrade functions;

Fiber port 100/1000M adaptive, high compatibility, easy to interconnect all 100M/1000M optical devices;

The power supply adopts 5-12V wide voltage input, and monitors the power supply status in real time to realize power failure alarm;

Scientific circuit layout, strong anti-interference ability, electric port lightning protection 6KV, to meet the needs of various occasions;

The working status indicator is complete, and the working status is clear at a glance;

External professional adapter, safe and stable, the whole power consumption is less than 5W;




◆ Product Parameters
Technical Parameters

Ethernet Standard

IEEE802.3、IEEE802.3u 、IEEE802.3z 、IEEE802.3x

Interface

Optical port

Interface form: 1*9 or SFP (recommended SFP-LC interface)

Interface rate: adaptive, 100M/1000M optical port interconnection

Transmission distance: multimode fiber: 550M;

single mode fiber: 20/40/60/80/100/120km

Electrical interface

Interface form: RJ45 Electrical interface
Interface rate:10/100/1000Madaptive,

Transmission distance:100m (Standard CAT5/CAT5e cable)

Power interface

DC power interface

Serial port

Console port,local management port(115200bps)

Reset

RST button,reset (short press),restore factory settings (long press)

LED

Panel indicator

PWR On: Power supply is normal
SYS Flash: management function is running normally

TP 100M On: The electrical port rate is 100M.

Flash: Data transmission

TP 1G On: the electrical port rate is 1000M.

Flash: Data transmission

FX 100M On: Optical port rate is 100M Flash: Data transmission

FX 1G On: Optical port rate is 1000M Flash: Data transmission

Power Supply Characteristics

Input voltage

DC5V~12V (External power supply)

Full load power consumption

<5W

Overload protection

Support

Working Environment

Working temperature

-20~60℃

Storage temperature

-40~70℃

Relative Humidity

5%~95%(non-condensing)

Mechanical Property

Shell

Metal shell

Installation method

Desktop independent installation

Size

112×72×26mm

Warranty period

3 years




Contact us


Telephone: +86-0755-33591616


Hotline : 4006782336


ADD: 9 Floor ,Block B , Hengbang Science Park ,Loucun 1st Industrial Zone , Guangming New District ,Shenzhen ,China 518106